Well, it's now confirmed that Ducati is dumping Nicky Hayden from the MotoGP team for 2014.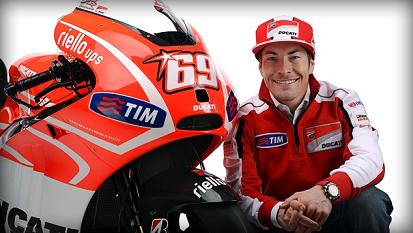 All Nicky Hayden ever did in his five years with Ducati was continue to flash his wide smile under his ever-present Ducati logo hat while the company he rode for cemented its position as the slowest of the factory efforts. All he did was ride more laps than just about everyone in the testing sessions, help a succession of teammates try to find a way to turn fast laps on a bike that rode like it had Novocaine in the front instead of fork oil, and keep waving the flag for the brand at countless appearances despite periodic hints that the lack of wins must be the rider's fault, not the motorcycle's fault. Not the brilliant, beautiful Ducati's fault. It's Italian, you know! It's red! It must be the greatest. All our advertising hype says so. 
I'm no naive newcomer. Professional sports is all about performance, in most cases, and motorsports is about performance and marketing. If you're looking for loyalty, get a dog, not a MotoGP ride. There are plenty of business reasons, perfectly logical bottom-line reasons, why Ducati would want a new and younger rider on its Desmosedici in 2014. Racing is a cruel game in so many ways, and being dumped by the company you showed impeccable loyalty to is just one of the lesser cruelties. There are far worse ones, we've all seen.
All that said, this still sucks.
The worst thing that happened to the Ducati MotoGP program was the company's one world championship. Because Casey Stoner, with his supernatural skills, won the championship on the Ducati in 2007, the company could go on convincing itself that the bike was not to blame for any failures. It had to be the rider.
This despite the fact that the Ducati Desmosedici ended several promising MotoGP careers on sour notes. It started with the experienced Loris Capirossi, who couldn't win the title, but did win a race or two. The revered Troy Bayliss came over to MotoGP after winning the World Superbike title and, despite one spectacular win, he couldn't bring a MotoGP championship to Ducati. Carlos Checa couldn't, though he would win a World Superbike title later. Marco Melandri, a promising young rider then, couldn't win on the Desmosedici. Despite all that evidence, Stoner's success allowed Ducati to go on blaming the rider. (Of course Stoner was smart enough to bail on Ducati when he got a chance.)
The blame-the-rider line of thinking finally hit a brick wall when Valentino Rossi came to Ducati and couldn't come close to winning a title. Didn't even win a single race and went from being the charming king of MotoGP to a sad sideshow, a man with a cloud above him on race days.
As much as Ducati wanted to continue deluding itself, there was no choice but to admit the truth. If Valentino Rossi can't ride your bike, it's not the rider's fault.
So it's not Nicky Hayden's fault, either, but having wasted most of his peak years, when he might have had another shot at a title, riding around in seventh place on the uncompetitive Ducati, he now must go.
Professional athletes, to achieve world prominence, must be not only unusually gifted with talent and lucky enough to have some breaks fall their way, but they also must be insanely competitive. Nicky Hayden is insanely competitive, however much he keeps it in check for public relations purposes. He does not want to take the "step down" to World Superbike. But many of his fans would love to see him on a competitive team, fighting for wins at the front in World Superbike, rather than filling up the grid in MotoGP. He may well still have another world title in him. He could become the first to win both MotoGP and WSBK titles.
In the meantime, in the idle fantasies of my mind, I imagine a little gathering somewhere this fall, maybe down around Owensboro, Kentucky, where some folks toss a Ducati and all their logo gear on the barbecue, and say a fiery good riddance to that bright red Italian career-killer. Now that would be a fun time.
P.S. to Cal Crutchlow: Don't do it, Cal. Just don't go there.